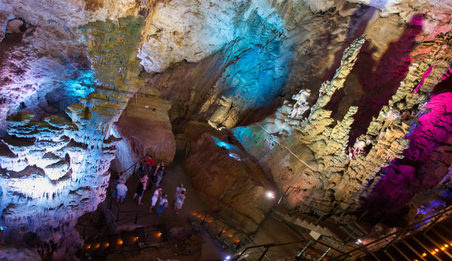 Municipality of Busot, Alicante, Valencian Community ...
CANELOBRE CAVES
from

€45
Includes taxes & fees
Have you heard about Canelobre Caves? But you don't have any idea about what they are. Would you like to visit them but do not know how you can do it? The Canelobre caves are at an altitude of 700m and are in an ideal location to enjoy some of the best panoramic mountain and sea views. On our visit we will explore the inside of the cave, with one of the highest caverns in all Spain. Just 23 kilometres of serpentine roads separate the city of Alicante from Busot: a small inland village that was established at the feet of a castle during the times of Arab domination. These first settlers are also credited with discovering the neighbouring Canelobre Caves: a natural group of prehistoric caves installed in the heart of the Cabeçó d'Or mountain range (meaning Gold Head, in English). Considered to be one of the main geological treasures of the province of Alicante, the inside of these caves boasts a series of rock formations that attract thousands of tourists every year. Canelobre Caves offer us a combined visit, that is to say a two for one, since through the same entrance you can visit the caves and the Museum of Ethnic Music located in the centre of the municipality of Busot in front of the Church of San Lorenzo Mártir, where you will find a select sample of more than 4,000 musical instruments from different eras, cultures and countries, instruments belonging to one of the greatest collectors of ethnic instruments in the world.
Our contacts
Our contacts
Opening Hours
Every day from 10:00 am – 20:00 pm
To book a tour, log in to your account